Maximilian I anniversary year 2019
Kufstein Fortress is paying homage to the Holy Roman Emperor, Maximilian I, by continuing to carry his spirit of innovation. Along with the opening of four impressive exhibitions, the Emperor Year will feature numerous events to honour Maximilian I. A new layout and information system is turning the open area into a museum and making a visit an exciting experience. You can find out everything about life at the fortress, battles for power, the architectural history and the exciting military altercations. Experience the cannons, the Heroes' Organ, the 60-metre deep well or the secret rock path and much more. Brave knights and fair ladies – saddle up and head on down to the Kufstein Fortress!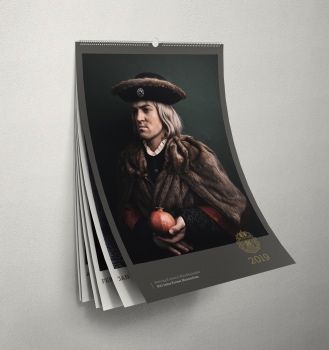 Limited edition 2019 wall calendar – a few still available: storm the fortress!

You can enjoy the anniversary of the emperor's birth for a whole year long! It couldn't be any easier to have Emperor Maximilian I in your own house! The brand new 2019 wall calendar with motifs and scenes from the life and work of Emperor Maximilian I with Maria von Burgund, his son Philip and little Margarethe. Pictured in the mighty walls and outdoor areas of Kufstein Fortress - as if you had been there at the time. The title, an adaptation of the famous Dürer painting, is another delightful artistic touch. This fine print product is now available in a limited edition of only 1000 pieces in the Fortress shop.